The Fund
The Creation of SUNY and the State University Construction Fund
The enactment of the GI Bill of Rights in 1944 and the end of World War II in 1945 led to a dramatic increase in the demand for higher education. On March 30, 1948, Governor Thomas E. Dewey signed a bill to create the State University of New York (SUNY).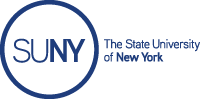 During the late 1950's SUNY's annual enrollment more than doubled, from 30,910 in 1955 to 63,721 in 1959. As SUNY enrollment grew, it became clear that the existing infrastructure could not meet the needs of the growing student population. SUNY's capital construction was managed by the New York State Department of Public Works, and sharp competition from several State agencies for the department's limited resources, combined with the State's onerous backlog, hindered SUNY's construction progress. By the end of the 1950's, SUNY was turning away thousands of student applicants due to the severe lack of space.
On March 17, 1962, Governor Nelson Rockefeller created the State University Construction Fund (Fund). The Fund was established as a public benefit corporation, with SUNY as the Fund's only client. The Fund is dedicated solely to act as an agent for SUNY to design, construct, acquire and improve SUNY's State-operated building and infrastructure assets on its 32 campuses and at three teaching hospitals. These assets reflect new construction and the continued restoration and maintenance of existing buildings.
In the 50+ years since the Fund's inception, SUNY has grown to be one of the largest public higher education institutions in the country with an enrollment exceeding 400,000. The Fund has supported that growth through the construction of over 1,000 new buildings containing over 51 million square feet of state of the art laboratory space, effective learning environments, centers for the performing arts, and medical facilities to support both higher education in New York and the local communities.  
The Fund continues to support SUNY through the ongoing replacement of critical infrastructure, renovations to support innovative new educational programs, and continuing its mission to expedite the construction, acquisition, reconstruction and rehabilitation or improvement of the SUNY system; all while identifying energy efficiency opportunities and being responsible stewards of state appropriated funds.