Child Care
Providing quality care, educational learning centers, and community employment opportunities.
Child care facilities throughout SUNY provide quality care for over 5,000 children at 48 centers across the state. These centers are located at state-operated campuses and at community colleges, and provide a vital service for the campus and community by providing care for children of students, faculty, staff and community members. Of the 5,000 children served, approximately one-third are children of student parents, one-third are children of faculty and staff and one-third are children from the community. SUNY childcare centers allow parents to attend school and work while providing solid foundation of care and education for young children.
Collaboration with the campus community, local school districts, BOCES, United Way, CCR&Rs, Foster Grandparents, and other human service agencies provide a broad range of services for enrolled children and their families and creates a positive relationship with the community.
SUNY childcare centers allow student parents to succeed in school, prepare students for teaching and other professions and build a strong foundation for New York's future workforce. SUNY childcare centers also provide sites for student interns and placements for work-study students in the fields of child development, education, nursing, psychology, physical therapy, occupational therapy and many others.
Finally, SUNY childcare centers contribute to economic development by providing employment opportunities for over 1,200 people. Investments in early care and education have an immediate and multiplying economic effect through spending on facilities, supplies and personnel. Early care and education professionals generally spend most of their earnings locally, realizing roughly $2 in local spending for each federal child care dollar spent.
North Country
SUNY Potsdam
The SUNY Potsdam Child Care Center, Inc. is a fully licensed child care facility serving children of SUNY Potsdam faculty, staff and students in addition to the surrounding community.
The Child Care Center is dedicated to expanding and enhancing human potential. It seeks to stimulate the development of each child, support families in raising their children and provide a rewarding working environment for its employees. The Center also provides education experience for SUNY students, offering part-time opportunities for students to gain child development and teaching experience. Along with classrooms, gymnasium area, and 2 outdoor playgrounds, the center also boasts an on-site kitchen. Enrollment is on a space-available basis with priority given to SUNY Potsdam students, faculty, and staff.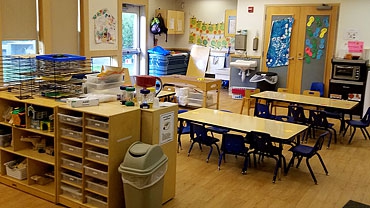 The Delhi Campus Child Care Center, Inc. (DC4) is a not-for-profit corporation licensed by the New York State Office of Children and Family Services and accredited by the National Association for the Education of Young Children. The Center is located on lower Delhi campus just past the College Farm.
DC4 was established to serve the childcare needs of SUNY Delhi students, staff and faculty, as well as New York State employees. The state-of-the-art facility was completed in the spring of 2012 and includes: 5 classrooms, 4 large playgrounds, kitchen, large indoor gym, library, and parent resource area. In 2012, DC4 began collaborating with Delaware County ARC Carousel Children's Program. Both preschool classrooms are integrated with special needs children from the Carousel program.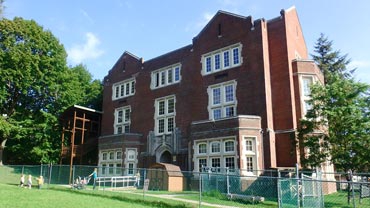 Mohawk Valley
SUNY Oneonta
Bugbee Children's Center offers a unique early care and educational experience to the children and families of SUNY Oneonta and the greater Oneonta community. The Center is located in Bugbee Hall on State Street in beautiful Oneonta.
Features of this building include the full-sized gymnasium located on the second floor, 4 playgrounds, an auditorium with a stage, a full-sized institutional kitchen, and classrooms. In 2019, SUNY Oneonta completed a renovation that added brand new sprinkler system, bathrooms, cabinetry in all classrooms along with upgrades to the lights, plumbing, heating, and fire alarm system.