Performing Arts
Facilitating the academic and performance ambitions of students, faculty, and community.
SUNY's performing arts facilities constitute millions of gross square feet of space, supporting the academic and performance ambitions of the SUNY students, faculty, and greater community. SUNY believes in the transformative power of art, and many Fund projects have focused on new construction and renovation of campus studios, exhibit spaces, and performing venues. These venues host cutting-edge technology and have become a cultural hub for the surrounding region.
Concerts, theatre, dance, political events, and corporate meetings are examples of the diverse events that occur in these spaces where all the arts - theatre, dance, visual, musical and literary - can be created, showcased and shared.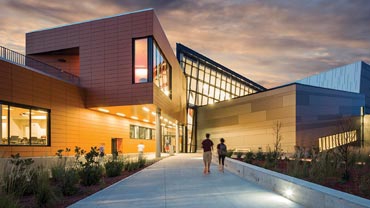 North Country
SUNY Potsdam
The Performing Arts Center houses SUNY Potsdam's acclaimed Department of Theatre and Dance, and connects to The Crane School of Music. The 97,000-square-foot facility is one of the best performance venues north of New York City, with a 350-seat proscenium theater, a 200-seat black box theater and a 200-seat dance performance hall.
The Performing Arts Center's light-infused lobby with its adjacent cafe serves as an "arts avenue" displaying student works, while providing a variety of seating areas for socializing and collaborating. In addition, the arts avenue doubles as a special events space and reception area. The lobby also provides students with a convenient weather-protected connection from the building's southeast entry to The Crane School of Music at Bishop Hall.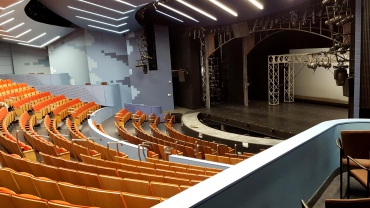 Central New York
SUNY Oswego
Completed in 1968, Tyler Hall functions as the main academic building on campus for the Art, Music, and Theatre Programs. It also serves as the home to the Tyler Art Gallery and Waterman Theater, both of which are used by the Oswego community and the academic departments for exhibitions and performances.
The recent renovation to Tyler Hall provides consolidated space for the newly formed School of Communication, Media and the Arts. Improvements to the 100,000-sf, 1965 building included a dramatic new lobby connecting to an enhanced art gallery, a large instrument rehearsal hall that doubles as a recital hall for ensemble performances, practice rooms, music classrooms, and upgrades to the 525-seat Waterman Theater. Significant upgrades included new entrances and large 1st floor windows enhancing the exterior experience of the building while providing a lobby filled with natural light. The new building entry now faces the entry to the campus and the arts precinct. This LEED Gold renovation of a university arts building transformed a forbidding, brutalist structure into an open and inviting one.